Disclosure: This shop has been compensated by Collective Bias, Inc. and its advertiser. All opinions are mine alone. #CurbsideConvenience #CollectiveBias
How to Save Time with Giant Eagle Curbside Express
Friends, if you are looking for a way to simplify your life and save time, do yourself a favor and check out Curbside Express at Giant Eagle. I have been using this amazing service pretty much since it was introduced to my local market over a year and a half ago, and I cannot say enough good things about it! I felt like a bit of a pioneer, because services like this weren't available at many retailers at that time. ;-)
What is Curbside Express you might ask? Curbside Express is a service that allows you to order your groceries from Giant Eagle online. You choose a pick up time that is convenient for you! When the time arrives, simply drive to your local store, park in one of the designated Curbside Express parking spots, give them a call and they will deliver your groceries right to your car.
I have used both my cell phone and my computer to order groceries, and I found both to be easy to use. In early 2016, my husband and I unexpectedly found ourselves in the hospital with our youngest daughter for 2 days. Our oldest daughter was also sick, and she was at our home with my mom. I will never forget sitting in the hospital room ordering groceries via my phone from Giant Eagle, then having my mom drive to the store to pick them up for us. She didn't have to drag my oldest (fevered) child through the store, nor did she have to guess what food we liked or were out of. While this is a bit of an extreme example, it's one that really cemented my love of this service.
As Curbside Express has gained in popularity, I have found that ordering my groceries the night before I want to pick them up works best for me. I tend to arrange my pick up times around other errands, kids activities or appointments, and it has worked out great! I started a new, part-time (outside of the home) job a few weeks ago, so I'm now cramming all of my errands and shopping into my one weekday off. Rather than spend over an hour of my 6.5 kid free hours schlepping through the store, I spend around 15-20 minutes the night before placing my order, and no more than 15-20 minutes the next day picking it up. SCORE! It's also nice to be able to shop from my phone when I am sitting in waiting rooms or during my lunch breaks. It's much more productive than perusing Facebook, and I'm able to spend more time with my kiddos when I'm at home with them.
Here is a quick overview of how shopping Giant Eagle Curbside Express works:
First, head over to the Curbside Express page and log in. If you don't already have an account, it's easy to set one up! Also be sure to get a Giant Eagle Advantage Card if you don't already have one – it will save you money AND will allow you to shop previous purchases when you come back and use Curbside Express again. When prompted, enter your zip code and select your store.
The landing page will show you sale items and a few featured products – likely items you purchase on a regular basis. I love that the website knows what I buy regularly in store (thanks to my Giant Eagle Advantage card). It makes my online shopping experience that much faster! In the top right corner you'll see "Reserve a Timeslot". I like to do this first thing, so that I am sure to find a time that will work for my schedule.
As you can see above, on this particular week, I had several options to choose from. Click on your desired pick up time and click the orange "Reserve my Pickup Time" button. Now it's time to shop!
I begin my shopping by clicking on "My Account" in the top right corner and selecting "Shop my Last Order". What I LOVE about this feature is that it shows your last order whether it was in store or online. I am quickly able to add my weekly staples to my shopping cart. You can see a few of my regulars in the image above.
I realize that some of you might be leery of ordering meat and produce online. I have to tell you – any errors that have occurred in my orders that included produce or meat were my own mistake 99% of the time. My tip for avoiding errors is to really pay attention to the quantity when placing your order. For example, bananas are sold individually and NOT by the bunch. So…if you want 6 bananas, your quantity should be 6 and not 1, unless you want to receive 1 banana. The same goes for hamburger patties. Ask me how I know. ;-) To me, these are just little nuances that you figure out as you use Curbside Express on a regular basis. In terms of quality, the produce that I receive has always been great. If I'm being totally honest, my loyalty to Giant Eagle comes from knowing that I can always find great meat and produce. It's just an added bonus that I can shop for it easily online! Not every order that I place is perfect 100% of the time, but I have never, ever felt like it wasn't worth it! The time savings means that much to me. I love that a Giant Eagle personal shopper selects my items for me. If they ever have a question, they give me a quick call to confirm, or to ask about a substitution. It's great!
After shopping my previous order I do like to scan through the Weekly Ad for deals, and sometimes I'll go through each category to search for items. You can find and shop recipes on the Giant Eagle website as well!
As of now it costs $4.95 to use this service, but Giant Eagle is currently waiving the $4.95 fee for your first 3 orders! My personal goal is to use at least $5 worth of coupons to offset the cost. YES! You can use paper coupons when your groceries are delivered to your car and you pay! Also be sure to clip Giant Eagle eCoupons for digital savings! I don't stress out if I can't find $5 worth of coupons though, because I tend to spend less money overall shopping online. I attribute this to the fact that I can't impulse shop.
Below is a picture of my most recent Curbside Express haul. I wanted you to see that I will literally order ANYTHING that I need! Note the laundry detergent, water bottles, variety of meat (including deli), produce, and MUCH more. Being able to order heavier items online was especially nice when I broke my foot this past December.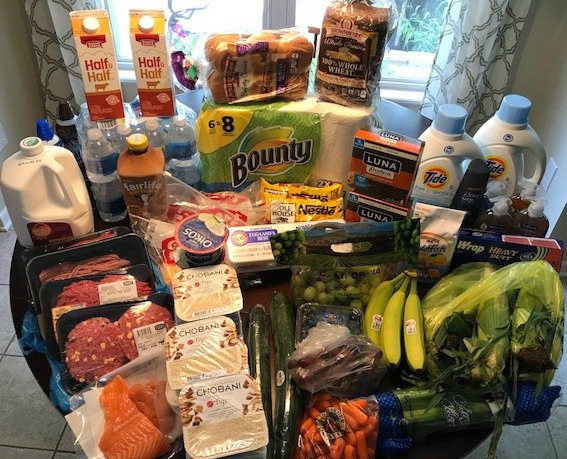 In my opinion, the time that I save using Curbside Express is worth every bit of the $4.95 fee that I pay to use it. If you haven't given Curbside Express a try, I highly recommend it! What are you waiting for?!
What questions do you have for me about Giant Eagle Curbside Express? Do you have any experiences with this service that you would like to share? Sound off in the comments section below!
If you find this information useful, please consider subscribing to my RSS feed or email newsletter. Also, be sure to check out Stretching a Buck on Facebook. Thanks for visiting! Note: This post may contain affiliate links. View my disclosure policy here.