This is a Sponsored post written by me on behalf of Walmart. All opinions are 100% mine.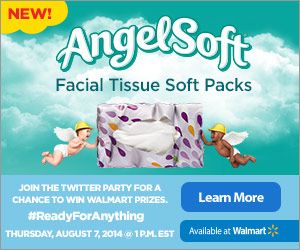 If you have kids, suffer from seasonal allergies or know that you are bound to catch a cold this winter, it's important to be ready for anything! I always try to keep a roll of paper towels and a box of facial tissue in my van for emergencies, but both end up getting crushed and/or dirty and have to be thrown away. The same goes for the little tissue packs that I keep in my purse. The plastic never seems to hold up and I end up with smushed tissues in the bottom of my purse. Well, no more!
Recently I was asked to head to my local Walmart to purchase a pack of Angel Soft® On-the-Go Facial Tissues to review. Priced at $1.37, I liked that these weren't hard on my wallet! I found them in the aisle with all of the other facial tissues.
When I got to my car, I immediately took my pack of Angel Soft® On-the-Go Facial Tissues out of the bag and slid them in to this space in my drivers side door. I like that the packaging has some give, and these fit perfectly!
We go to our local parks often, and my girls always end up needing a tissue for something. Both suffer from seasonal allergies and end up with lots of boggies (sorry, but it's true!), so I always carry tissues with me. It was easy enough to grab the Angel Soft® On-the-Go Facial Tissues from my van door to take with us to the play ground area.
I'm past the days of carrying a diaper bag, so I was pleasantly surprised to find that Angel Soft® On-the-Go Facial Tissues fit in to my purse with no problem. As I mentioned before, the packaging has give, so you can compress it without crushing anything.
An added bonus is that the packaging is also waterproof, which is a must for me because I am always spilling sippy cups, water bottles and coffee on my things (or in my bags :/)! I also like having these tissues on hand to wipe off my smartphone – it often gets clouded up from my foundation and sunscreen and tissues are gentle enough to clean the screen off.
I ended up buying another pack of  Angel Soft® On-the-Go Facial Tissues to keep in the cabinet with our band-aids, bug spray and sunscreen. I tend to cart those items out to our patio on days when my kids and their friends are playing on our back yard. Someone inevitably ends up with blood, guts or snot on them, so tissues are a must!  I love that Angel Soft® On-the-Go Facial Tissue packs don't take up a lot of space in my cabinet.
I found Angel Soft® On-the-Go Facial Tissues to be portable, affordable and great to have on hand! I'm trying to figure out how I survived without them for this long. :-) I'm planning on picking up another pack the next time that I am at Walmart to throw in my 3rd grader's back pack!
If you are someone who likes to be prepared, be sure to check out this product at your local Walmart.
If you find this information useful, please consider subscribing to my RSS feed or email newsletter. Also, be sure to check out Stretching a Buck on Facebook. Thanks for visiting! Note: This post may contain affiliate links. View my disclosure policy here.