This post brought to you by Walmart. All opinions are 100% mine.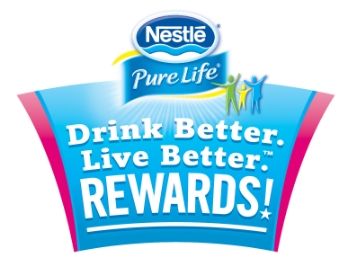 I don't know about you, but during the hot summer months I feel like I am always buying drinks to keep my kids hydrated! I try to encourage them to drink water and limit their juice and milk, and for some reason they are more receptive when I give them a water bottle.
We have been spending a lot of time in our area parks this summer. We always carry bottles of water when we are walking the trails:
And running up and rolling down the hills. :-)
I frequently purchase Nestlé® Pure Life® water, and love that they have created The Nestlé® Pure Life® Drink Better. Live Better.™ Rewards program!
It's super easy to sign up for the Nestlé® Pure Life® Drink Better. Live Better.™ Rewards Program at NestlePureLifeRewards.com. I signed up using my Facebook profile and automatically received 10 points, plus I received a $1 off coupon!
Purchase specially-marked packages of Nestlé® Pure Life® water at Walmart and you'll be on your way to earning rewards points that you can redeem for rewards such as coupons, gift cards, Universal theme park tickets and more!
As I mentioned, when you sign up via Facebook you'll receive an instant 10 points, but you can also earn points for inviting friends, downloading the Nestlé® Pure Life® Hydra-Trainer app or watching the Nestlé® Pure Life® Water Wizard videos!
Nestlé Pure Life is also offering DOUBLE POINTS for Back-to-School when you enter the codes between 7/21/14 and 8/15/14!
This promotion ends 9/30/14.
If you find this information useful, please consider subscribing to my RSS feed or email newsletter. Also, be sure to check out Stretching a Buck on Facebook. Thanks for visiting! Note: This post may contain affiliate links. View my disclosure policy here.