This is a Sponsored post written by me on behalf of Walmart. All opinions are 100% mine.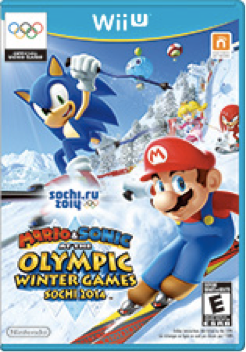 If you are shopping for hot video games this holiday season, be sure to check out Mario & Sonic at the Olympic Games: Sochi 2014 (Wii U™) now available at Walmart! I love the Olympic Games AND Mario, so this game sounds super fun to me.
I can still remember my brother and I playing the original Mario Brothers on our (now) old school Nintendo back in the 80s. I never did beat the entire game, but I had lots of fun trying! I always had to be Mario when I played…I'm not sure why I favored him so much. What video games do you remember playing as a kid? What were your favorite characters?
If you are unfamiliar with Mario & Sonic at the Olympic Games: Sochi 2014 (Wii U™), here is some info about this hot new game, featuring your favorite characters Mario, Sonic, Luigi, Tails, Princess Peach, Amy + more!:
This game features real Olympic events, including Figure Skating Pairs and Snowboard Slopestyle – which will make their Olympic debut in Sochi, Russia this winter!
Intuitive controls will make you feel even closer to the action! In the Bobsleigh event, the captain of the 4 player team will use the Wii U™ GamePad to guide the bobslead while the remaining team members will use the Wii Remote™ Plus Controllers
Compete in NEW online multiplayer events to help your home country earn the best ranking
High definition visuals serve to intensify your Olympic experience!
Note that additional accessories are required for multiplayer modes and are sold separately, and that wireless broadband Internet access is required for online play. Find more info at support.nintendo.com.
You can find Mario & Sonic at the Olympic Games: Sochi 2014 (Wii U™) and Wii U™ Accessories at your local Walmart or online at Walmart.com!
If you find this information useful, please consider subscribing to my RSS feed or email newsletter. Also, be sure to check out Stretching a Buck on Facebook. Thanks for visiting! Note: This post may contain affiliate links. View my disclosure policy here.